Skip to Content
Premier PVC Decking in Salem, NH
We Provide Homeowners With Solid PVC Decking
Brooks Siding Windows Doors provides premier PVC decking services to homeowners throughout Salem, NH and the surrounding areas. When you choose Brooks Siding Windows Doors to work with, you'll deal directly with the owner. We don't employ a sales team, and there are no middlemen. The jobs we do are hands-on. Our highly-experienced installers get your PVC decking services done quickly and efficiently the first time around. Since 1960, our company has provided premier pricing and a showroom full of high-end materials to choose from. When you visit our showroom, we can walk you through the installation process step by step. Keep reading to learn more about PVC decking and its benefits.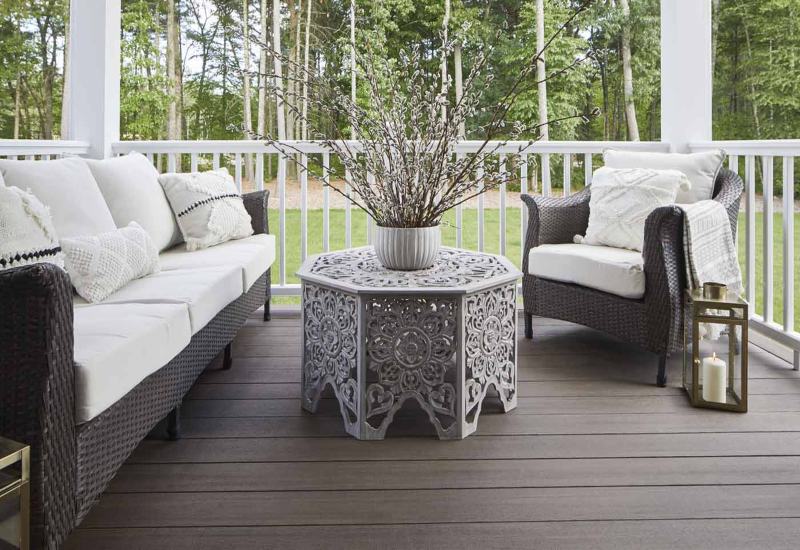 What is PVC Decking?
Polyvinyl chloride (PCV) decking is made from 100% recycled plastic and contains no organic materials. Created with synthetic polymers, this type of decking is extremely low maintenance. It's also water- and weather-resistant. It doesn't have to be sealed annually like other deck types and can last 50 years or more. With this decking type, you'll enjoy significant fade and stain resistance.
The Benefits of PVC Decking
PVC decking provides homeowners with a wide range of benefits and advantages. The benefits of PVC decking include, but are not limited to, the following:
Requires a minimum amount of maintenance
Doesn't need annual sanding, staining, or sealing
Contains anti-fade and anti-slip properties
Versatile color options are available
Features a crisp, clean aesthetic
Available in various price points
Less impactful on a home's budget over time
Low maintenance and lightweight
Can look like natural wood
Optimal for fire zone locations
Durable, strong, and synthetic
Weather, water, mold, and mildew-resistant
PVC Decking Vs. Composite Decking
PVC decking and composite decking are both low-maintenance and durable alternatives to wood decking. They both make excellent choices due to their appearance, maintenance, and sustainability. Depending on your unique needs and desires for your deck, one option may be better for you. Some of the key things to consider when trying to decide between PVC and composite decking include, but are not limited to, the following:
PVC decking has a longer lifespan. Because it is entirely synthetic, it is resistant to rot and weathering and can, therefore, last much longer than other decking materials. With a lifespan of more than 50 years, if you're looking for longevity, PVC is likely the way to go.
PVC decking is better for water. Because it is water resistant, PVC decking is an excellent option for poolside decks, as well as properties that are consistently exposed to saltwater. This type of decking is slip resistant and protected against algae, mold, and mildew.
Composite decking is best for budgets. Because composite decking is typically more affordable than PVC, it's the better option if you're seeking upfront savings. Like PVC decking, composite decking is low maintenance and rot-resistant, so that you can save on long-term maintenance.
PVC decking is easier to install. This is because PVC material is more lightweight than composite material, making it more convenient to deal with.
The Installation of PVC Decking
At Brooks Siding Windows Doors, we provide premier PVC decking installation and maintenance services. The installation of PVC decking can typically be completed within three days, depending on the size of our deck. This decking material provides quick and easy access to an outdoor living space. The installation of PVC decking can be completed in the following steps:
Cleaning & Preparation – The subfloor needs to be cleaned and prepared before the flooring is installed. Not cleaning and preparing the subfloor can decrease the lifespan of your decking.
Initial Installation – When installing a new deck, it's essential first to lay the joists and prepare them by nailing them into position. When laying the panels, the nails created holes for staples.
Placing Porch Panels – If your deck exceeds sixteenth feet, you will need to purchase at least two pieces of flooring to create an undetectable seam, making for an easier installation.
Stretching Porch Panels – Once you lay your first PVC panel, the corners need to be stretched to ensure a professional appearance when installation is finished. Minimal stretching is needed. This step also helps avoid air bubbles and various other imperfections.
Securing Porch Panels – Each panel must be placed, stretched, and secured by its seams with caulk and staples. All seams should be caulked for a professional, long-lasting appearance.
Request You Free Estimate Today!