Skip to Content
Exterior Railing Installation in Salem, NH
Premium Exterior Railing Installation
You shouldn't have to compromise aesthetic value for safety, and you don't have to with Brooks Siding Windows & Doors. We provide custom deck railing installation that combines unrivaled beauty with en-hanced security. Whether you're redesigning your railings or installing or upgrading outdoor living fixtures, count on Salem, NH's leading exterior railing installation specialists.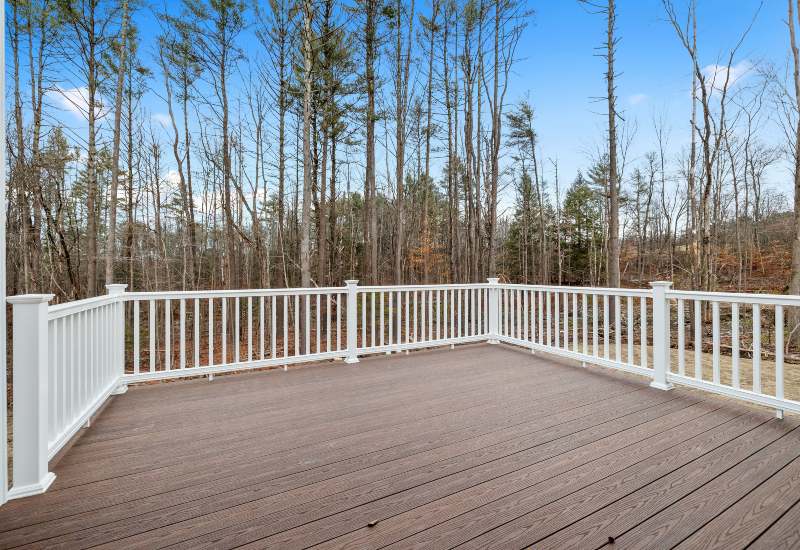 Experience the Difference of Vinyl Railing Installation
Your outdoor area serves as a gathering place for loved ones, a relaxing oasis, and a place to create lasting memories. From sprawling decks to charming patios, safety and durability are essential. That's why customers in Salem, NH, look to us for quality vinyl railing installation.
The Importance of Exterior Railing Installation
Exterior railing installation is deeper than just an aesthetic preference. Railings create a protective barrier that mitigates the risk of accidents by providing unmatched stability and support. With the help of our ex-perts, you can achieve practicality, safety, and security without compromising on style with our vinyl railing installation.
Personalized Design for Your Home
No two homes are the same, and Brooks Siding Windows & Doors offers customers a wealth of options for their vinyl railing installation. Our quality railing systems are the meeting place of resilience, style, and performance, accommodating even the most diverse customer preferences with ease.
Why Should I Choose Vinyl Railings for My Deck?
If you're not sure which material is best for your deck, Brooks Siding Windows and Doors is here to guide you. Vinyl railings are the preferred choice, as they boast an array of benefits, including:
Enhanced durability
Corrosion-resistance
Low maintenance
Versatile and customizable
Sustainable and environmentally friendly
Cost-effective
Long-lasting
Vinyl Railings vs. Composite Railings
Vinyl and composite railings may share similarities, but they are very different. Composite railings are made from recycled plastic and wood. Vinyl railings are crafted entirely from durable polyvinyl chloride. Vinyl is lightweight and low maintenance. In contrast, composite is heavier and requires additional maintenance, including staining and sealing. Additionally, vinyl is more affordable.
What Style of Home Do Vinyl Railings Work Best With?
One of the many redeeming qualities of vinyl railings is the ability to seamlessly blend with just about any type of home. As vinyl is design-flexible with many colors and style options, it can be used to complement any property type, including:
Modern
Colonial
Coastal
Cottages
Farmhouse-style homes
And more!
Satisfying Every Preference With Ease
Vinyl railing installation is versatile and customizable. Whether you're looking to complement your modern home with clean lines and a contemporary feel or bring a charming, rustic vibe to your cottage, vinyl railing installation is the optimal choice. Our experts can help you find the perfect vinyl style for your unique goals and preferences.
How to Clean Exterior Vinyl Railings
To keep your vinyl looking exceptional for years to come, simply combine mild detergent with warm water, scrub the railings with a cloth or soft-bristled brush, and rinse them with a hose. For stubborn stains, mix vinegar and water and repeat the process. Additionally, be sure to avoid abrasive cleaners to mitigate the risk of scratching your vinyl.
Benefits of Vinyl Deck Railings
Experience more than just durability and reduced cleaning demands with vinyl railing installation. These exceptional installations offer longevity, with resilient materials that can withstand harsh weather and the test of time. Vinyl railings are at the forefront of safety and offer homeowners endless opportunities to customize the look and feel of their homes.
Choose Brooks Siding Windows & Doors
Since 1960, Brooks Siding Windows & Doors has remained synonymous with quality, and our vinyl railing installation is no exception. When you rely on our team, you can expect durable, stylish, and long-lasting exterior railings that bring value to your home.
Let's Discuss Your Exterior Railing Installation Today
Don't settle on your railings' safety, performance, and aesthetic appeal. Choose Brooks Siding Windows & Doors and our trusted vinyl railing installation and experience the transformative power of best-in-class materials. Contact our friendly experts today to get started on your exterior railing installation project.
Request You Free Estimate Today!