Skip to Content
Fiberglass Doors in Salem, NH
We Can Install Your Customized Fiberglass Door
Brooks Siding Windows Doors provides fiberglass doors and fiberglass door services to Salem, NH residents. Whether you're looking for fiberglass front doors, fiberglass garage doors, or fiberglass double-entry doors, we've got you covered. We install, replace, and repair fiberglass doors. These doors are the perfect choice for any home. They provide top-tier protection against the elements and come in a wide range of colors and styles so you can customize your fiberglass entry doors to your unique specifications and preferences. Keep reading to learn more about fiberglass doors in Salem, NH.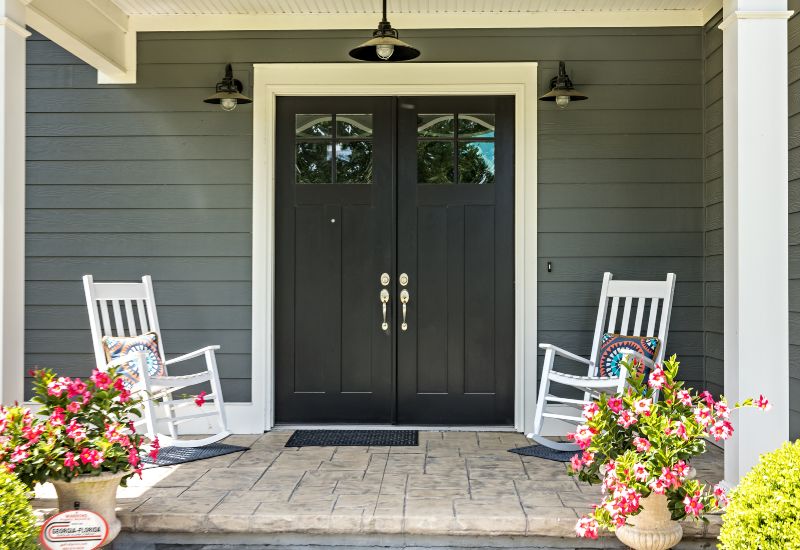 What are Fiberglass Doors?
Fiberglass doors are modern doors that excel in durability, insulation, functionality, and aesthetic appeal. Fiberglass is a type of plastic that is strengthened by glass fibers and typically two layers of fiberglass skin alongside an insulated foam core and a thick polyurethane frame.
The Benefits of Fiberglass Doors
The benefits of fiberglass doors are vast. Not only are these modern doors an excellent investment, but they provide premier protection against the elements. These doors are durable and made to resist the weather's wear. Their impressive, wood-like aesthetic is created with cutting-edge technology. With the superior resistance of fiberglass, homeowners won't have to worry about warping, cracking, splitting, and denting. The benefits of fiberglass doors include, but are not limited to, the following:
Durability – These durable doors can thrive for decades with minimal maintenance. Fiberglass doors are resistant to denting and scratching. They also incur minimal damage regardless of the conditions and weather they are subjected to.
Weather Resistance – Extreme weather happens, sometimes with warning and sometimes without. From hard rain to heavy snow and intense sunlight, New Hampshire experiences it all. Fiberglass doors are made to withstand the elements and all forms of weather.
Minimal Maintenance – You won't have to worry about constantly cleaning and maintaining your fiberglass door. Thanks to their durability, these doors require minimal maintenance.
Energy Efficiency – Fiberglass is an immensely energy-efficient material, and fiberglass doors are no different. With premier insulation capabilities, fiberglass doors can help reduce energy costs. Remember still always to shut your door tightly so that stray air won't be able to pass through.
Aesthetic Appeal – These doors come in various styles and colors and have their own unique beauty. Most of the time, they resemble wood and appear sleek and shiny.
The Installation Process for Fiberglass Doors
The installation process for fiberglass doors starts with removing your existing door. We will preserve the integrity of the surrounding structure as we work. Your old door will be disposed of responsibly. The door opening will be cleaned and prepared. We will ensure it is free of dirt, debris, and level before ever installing your new fiberglass door.
When our expert team installs your door, we ensure it's installed correctly for optimal performance. We will make sure it's level and securely fastened. Any necessary adjustments will be made to ensure the perfect fit and seal to prevent drafts and moisture from infiltrating your home. We will also attach any door hardware, including locks and handles.
Once installation is completed, we will conduct a final inspection. We will clean the work area and ensure your door is properly installed so that it functions smoothly and optimally. Our comprehensive installation process will ensure a beautiful entryway for your home. We strive to provide a seamless, worry-free experience for our valued clients.
The Installation, Replacement, & Repair of Fiberglass Doors
We do it all – installation, replacement, and repair. When you're considering installation or replacement, don't worry about the specifics. We'll handle that. We offer free, in-home consultations to learn about your unique needs, budget, and preferences. During this consultation, we will also measure your door opening to ensure the perfect fit of whatever fiberglass door color and style you select. We want your customized door to reflect your unique style and home. We can recommend you a high-quality fiberglass door based on your needs, budget, and preferences. If our company installs or replaces your fiberglass door, we want you to be able to rely on us for repairs as well, should you need them.
Contact Us Today About Fiberglass Doors
If you're looking to add a fiberglass door to your home, you've come to the right place. For years, our company has installed countless fiberglass doors on homes throughout Salem, NH and the surrounding areas, including Windham, Pelham, Derry, and Manchester. Our team of highly-skilled installation specialists provides top-tier fiberglass door installation and replacement services. Contact us today to learn more about fiberglass doors or to schedule a free, in-home consultation with our expert team. We are sure our top-tier suppliers will have a door that suits your aesthetic and functional preferences. Then, we can quickly and efficiently install it for you so you can get to enjoying your new fiberglass door.
Request You Free Estimate Today!